---
Just because you do not see what you're looking for below does not mean we cannot assist you. Industrial Packaging Corporation has sources for any type of machinery you require for whatever your needs so contact us today and one of our equipment specialists will help you.
Available Products
---
Shrink Film Machinery

top↑
Solid Performance Through Innovative Design from SEAL-A-TRON.
A Leader in Manufacturing of Manual, Semi-Automatic and Automatic Shrink Packaging Equipment with L-Bar Sealers and Shrink Tunnels of Many Sizes.
Industrial Strength Design for Continuous Heavy-Duty Operation
Programmable Micro-Controller Technology for Complex and Demanding Performance
Optional Features and Accessories
Easy to Set-Up, Maintain and Operate
Custom Machinery Made to Order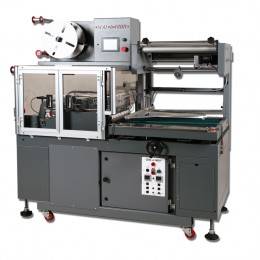 ---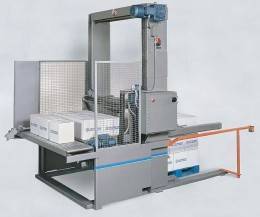 Here's a top performing palletizer for cases, trays or totes, with features for ultra-smooth case transit, perfect load positioning, and rapid product changeover for all your palletizing needs. This palletizer features low level construction providing the freedom of floor level operation, and a clean, open profile that ensures easy access. Modular designs provide total flexibility for your palletizing production requirements today and in the future.
---
Securely brace your products during transit and ship clean, professional-looking packages using IPG's new iCushion™ Protective Packaging Inflatable Air Pillow System! This easy-to-use table top system allows you to quickly produce convenient, cost-effective void fill on-demand. iCushion™ Air Pillows are lightweight, perforated for easy separation and made of nonabrasive poly which will not scratch the surface of your product. They are reusable and recyclable, with disposal requiring a low volume in landfills when deflated.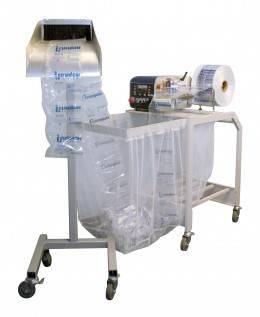 ---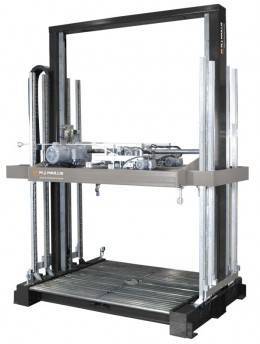 Strapping machines are becoming a familiar sight in shipping rooms everywhere. Whether applied with a semi-automatic tabletop strapper or a fully automatic arch machine, nothing keeps a heavy carton closed quite as well as a plastic strap. Utilized in a variety of industries such as commercial printing, food, lumber, postal and general packaging, plastic strapping machines can apply a unitizing band simply, quickly, and safely in seconds. An Industrial Packaging equipment specialist will be happy to help you decide which type and model of plastic strapping machine is right for your shipping operation.
---
A recent breakthrough in box assembly, the Easy Fold Fixture requires just a single operator, takes up minimal floor space and is cost effective. It comes in three different models:
• Standard Fixture
• Standard Fixture with turntable
• Complex Form Fixture
These models can be customized to almost any size and style of unglued cartons or boxes.
• Reduces assembly related injuries
• Touch reduction
• Immediate return on investment
• Inexpensive
• Extremely low maintenance
• Improves employee morale
• Easy to use
• Minimizes use of floor space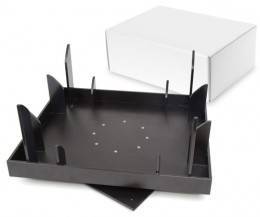 ---