---
Industrial Packaging Corporation has partnered with the best poly manufacturers in the US to be able to live to our motto of "Service First – Quality Always!" Because we buy by the truckload, we are able to offer a considerable discount to most companies and because of our almost 300,000 square feet of warehouse space, we have the capability of servicing any type of account large or small. Whatever your design requirements might be, Industrial Packaging Corporation and our partnership companies have the capabilities and flexibility to meet your custom film and bag needs.
Available Products
---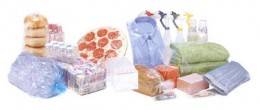 Combo Liners – Easy opening and customized to fit to specifications
Furniture – Superior toughness to protect valuable products
Heavy Duty – Superior at resisting abrasion and tears
Low Temperature – Excellent sealing and puncture resistance in temperatures to -40ºF
Configurations – Tubular, gusseted and centerfold. Perforated on rolls or case-packed
---
Shrink Bundling Film

top↑
High Gloss and Clarity – Crystal clarity and superior strength for retail and institutional beverage, food, and commercial products packaging
Low Temperature – Excellent physical properties and sealing at cold temperatures
Overwrap/Film Over Film (FOF) – Controlled coefficient of friction (COF) and lower activation/sealing temperatures
Mailer Film – Overwrap for magazine inserts, envelope windows, and bundled mailings
Premium Performance – Superior dispensing, cutting, feeding, shrinking, and sealing on high speed single roll packaging equipment
Heavy Duty – Superior mechanical properties for down gauging, and abrasive applications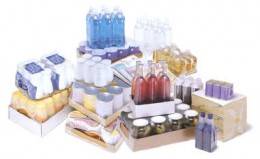 ---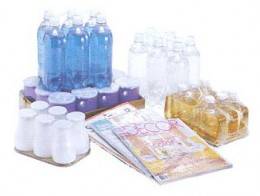 Form Fill and Seal & Flow-wrapping – Solid performance on high-speed equipment
Sheeting and Converted Tubing – Available in all configurations including single wound sheeting, lay flat tubing, double wound, center slit, and perforated
Top and Deck Sheeting – Controlled coefficient of friction (COF) so loads remain stable
---
A stretch hood is a tube of film sealed on one end, which is stretched over a palletized load to secure the contents to the pallet. The film is cut to the appropriate length, heat sealed on the top end, and gathered on four 'fingers.' These fingers stretch the film until the film dimensions are slightly larger than the load dimensions, then draw the stretched film down over the pallet, unrolling it as they go. At the bottom of the pallet, the fingers release the film, which typically wraps under the pallet bottom.
Superior Containment – high elasticity provides a strong hold around your products, resulting in excellent load stability
High Puncture, Tear and Abrasion Resistance – prevent film failures when wrapping irregular pallet configurations or sharp corners
Versatile – provides consistent seal performance in a wide range of operating conditions and equipment settings. Use one tube size for multiple pallet configurations, eliminating the need to change rolls.
Reduced Product Damage – with excellent load containment and high resistance to punctures and tears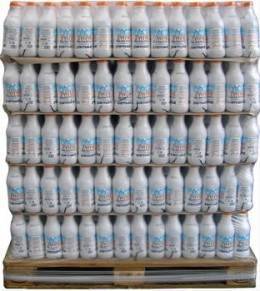 ---