---
Available Products
---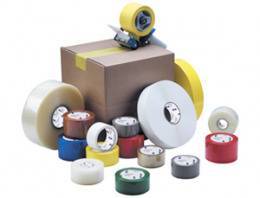 Carton sealing tape is one of the most common types of tape in use. Any item being packaged, or shipped is typically closed with one form or another of carton sealing tape. There are three main categories of carton sealing tape depending on your specific application.
Hot Melt – an excellent general-purpose tape with very good adhesion properties with very little noise suitable for machine applications.
Acrylic – a better performance tape that will not yellow and works better in humid environments or where appearance matters.
Natural Rubber – a very aggressive adhesive used for dusty harsh environments where temperatures are the extremes.
---
Industrial tapes are more application specific with the most common listed below:
Masking Tape – the adhesive is the key to masking tape as it allows the tape to easily be removed without causing damage or leaving a residue.
Duct Tape – a poly-backed reinforced tape that is useful for everything from sealing, patching, reinforcing or repairing.
Filament Tape – a high tensile strength tape with fiberglass reinforcement making it the perfect tape for unitizing and securing heavy packages.
Double Coated Tape – a two-sided tape ideal for mounting, adhering and splicing two items together.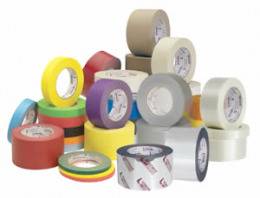 ---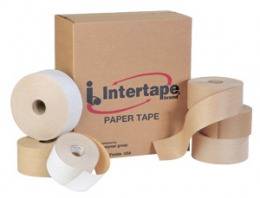 Water Activated Tape

top↑
Water activated tapes are the traditional method of closing cartons. They are available with cross-linked reinforcement for heavier cartons, printed for advertisement or promotional purposes, and they offer a secure closure so you know if someone has tampered with your package. These tapes require a manual or automatic taper that activates the adhesive for a permanent bond.
---